Product description
Shipping & Return
Wireless Charging Has Never Been Faster and Convenience than Before...
This 4-in-1 wireless charger can charge three devices simultaneously: an iWatch, a smartphone, and a headset. It features an imported chip with smart IDs and fast charging without heating.

This charger stand supports up to 30W wireless charging and is widely compatible with all smartphones that support the QI standard. Place it and charge it without removing the phone case.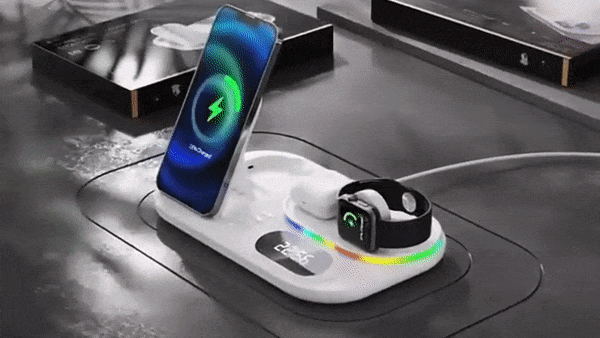 Temperature control, overcharge, overcurrent, and overvoltage protection Protect your device's battery from overcharging. Charging vertically and horizontally, allowing you to watch movies, listen to music, read books, and make video calls without interference.
RGB atmosphere lamp, digital clock Flip opening, and closing design, easy to take out, store, and carry smaller volume, and easy to transport
Features:
4-in-1 Functionality - Charge up to four devices at once, with slots for two mobile phones, wireless headphones, and smartwatches.
Ambient RGB Lighting - you will also get a time display and colored ambient light. You can choose to turn on or off the colored ambient light as you like. the base of the AirPod/Apple Watch platform emits a vibrant array of colors, which can be switched off or dimmed to act as a night light or mood light.
Non-slip design and adjustable angle: It supports two vertical and horizontal charging modes for cell phones. You can keep up with your daily work or watch videos at any time while charging. The wireless charger is made of non-slip silicone, so the wireless charger won't move or tilt, ensuring your phone is protected while charging.
Case-Compatible - Fully compatible with even the thickest phone cases, removing the need to remove the case to charge your device.

Safe & Durable - With overcurrent protection, overvoltage protection, overheating protection, and a foreign object detection function, the Qi fast charging wireless charger can prevent equipment battery overcharge damage. The charger's base has a vent hole to ensure that the device is charged safely.
No more clutter - 

eliminate the hassle of tangled or hard-to-reach cables.

 
This stylish little device has 4-in-1 functionality, allowing you to charge your phone, Apple Watch, and AirPods all at the same time.

The main feature is the ambient RGB light that circles the docking station's base. The light creates a soothing and relaxing atmosphere, ideal for winding down for the night. If the light becomes too bright, you can turn it off or dim it to match your mood.

When paired with a fast-charge compatible mains plug, the dual-coil design can support fast charging up to 30W, so you'll be back at full charge in no time.

It has a digital LED display so you can always see the current time without having to wake your phone or Apple Watch.

Specifications:
Max Power Output: 30W

Required Power Input:  12V/2.5A or 9V/3A
Max. Output Power:

30W

Charging Indicator: 

Yes

Input Type: USB 

Type-C

Compatible Brand:

Apple

Certification:

FCC, CE RoHS

Dimensions:
Device Compatibility
Mobile Devices
Here is the complete list of mobile devices that are compatible with our 4-in-1 wireless charging station.
Apple iPhone: 13 Pro Max, 13 Pro, 13, 13 Mini, 12 Pro Max, 12 Pro, 12, 12 mini, SE 2020, 11 Pro Max, 11 Pro, 11, XS Max XS, XR, 8, 8 Plus
Samsung Galaxy: S21 Ultra, S21 Plus, S21, Z Fold 2 5G, Z Flip 5G, Note 20 Ultra, Note 20, S20 FE, S20 Ultra, S20 Plus, S20, Z Flip, Note 10 Plus 5G, Note 10 Plus, Note 10, S10 5G, S10 Plus, S10, S10e, Note 9, S9, S9+, Note 8, S8, S8+, S7, S7 Edge (Plus more devices)
Sony: Xperia 1 III, Xperia 1 II, Xperia 10 II, Xperia XZ3, Xperia XZ2 Premium, Xperia XZ2 (Plus more devices)
LG: Velvet, G8 ThinQ, G7 ThinQ, V30, G6 (US version only), G4 (optional), G3 (optional) (Plus more devices)
OnePlus: 9 Pro, 9, 8 Pro
Nokia: 9.3 PureView, 9 PureView, 8 Sirocco
Huawei: P40 Pro+, P40 Pro, Mate 30 Pro, P30 Pro, Mate 20 Pro
Motorola: Edge+, X Force, Droid Turbo 2, Moto Maxx
Microsoft Lumia: 1520, 1020, 930, 929, 928, 920
Google: Pixel 4 XL, Pixel 4, Pixel 3 XL, Pixel 3
Nexus: Nexus 6, Nexus 5
BlackBerry: Priv (Plus more devices)


Supports Apple Watch models: The Apple Watch Series 1-7 are the only smartwatches that work with the 4-in-1 wireless charging station. This is due to the fact that the bevel that holds the watch in place was created specifically for the Apple Watch and is unlikely to fit any other brand of the smartwatch.
Supports Samsung watch models: Watch 4/Watch 4 classic LTE/Galaxy watch LTD/Galaxy watch BT/ Galaxy Watch 3/Galaxy Watch 3 LTE/ Galaxy Watch active 2 /Galaxy Watch active 2 LTD/ Galaxy Watch active 1
Wireless Earbuds: Wireless charging technology is used by almost every brand of high-quality wireless earbuds.
Apple AirPods, Samsung Galaxy Buds, Beats Powerbeats, Anker Soundcore, and JLab Audio Go are just a few of the earbuds that work with the 4-in-1 wireless charging station.

Important Notice:
The fast-charging wireless charger must be used with an adapter above 3.0 to stabilize the input and output. Otherwise, the unstable power will cause intermittent charging or an abnormal power supply.

Package Includes:
1x Wireless Charging Station

1xType c charger cable
All orders are processed within 2 to 4 business days (excluding weekends and holidays) after
receiving your order confirmation email. You will receive another notification when your order has shipped. check our shipping policy for more informations : Here
We want you to be completely happy with your purchase. Within 30 days of delivery, items can be returned or exchanged. Check out our return policy for more informations. : Here