Product description
Shipping & Return
No More Complaints For Leaving Your Car a Long Time Under The Sun Rays
UV rays can harm your vehicle's electronics, dashboard, leather, and seats. High temperatures can even produce harmful gases such as formaldehyde. A windshield shade effectively blocks UV rays and heat. They are intended to keep the interior of your vehicle cool and to protect it from damage caused by direct sunlight.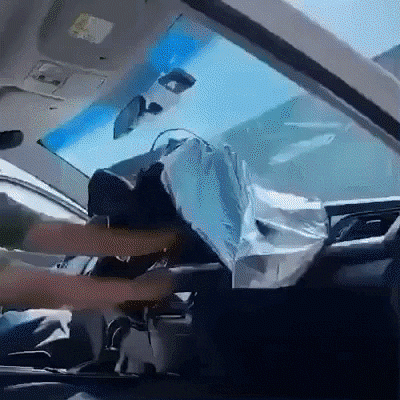 Features:
Odor-Free Material: Under high-temperature exposure, it does not emit a foul odor. It is made from high-quality and safe materials.
Reflects Sunlight Effectively: Our car windscreen umbrella cools your vehicle with an outward aluminum lining infused with titanium silver, providing excellent heat dissipation and reflection.
Thermal insulation & sun protection: sun shade windscreen has a high-quality aluminum lining that can block a lot of heat and reflect sunlight, effectively lowering the temperature inside the car and preventing damage and aging to your interior and upholstery.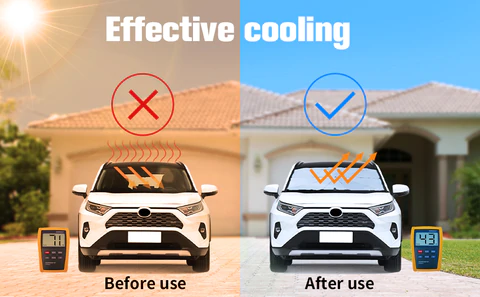 Multi-purpose: The car windscreen umbrella blocks the sun and rain outdoors, it's the multifunctional car parasol you deserve!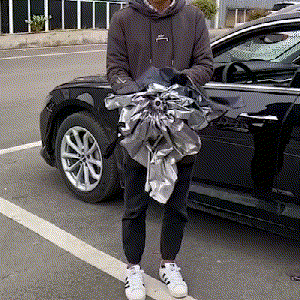 Easy to fold & Easy to store: It will save you time. Convenient, ready to use, and non-destructive installation, it takes up little storage space after folding (with a carrying case) and can easily fit in a door side pocket or the central storage box for easy storage. Our Umbrella is the ideal accessory for shading your vehicle from the sun!
Environmentally friendly material & No damage to car trim: The Sunshade Umbrella is heat resistant, so it will not be damaged by direct sunlight. Under sunlight and high temperatures, it emits no odors or harmful gases, ensuring fresh air in the car and environmentally friendly travel. This one-of-a-kind design of wrapped umbrella beads does not harm your car's interior or paint. It's also simple to set up and use.
Dimensions:
Small Size: 
Large Size:
Package Includes:
1x Interior Sunshade Umbrella
All orders are processed within 2 to 4 business days (excluding weekends and holidays) after
receiving your order confirmation email. You will receive another notification when your order has shipped. check our shipping policy for more informations : Here
We want you to be completely happy with your purchase. Within 30 days of delivery, items can be returned or exchanged. Check out our return policy for more informations. : Here